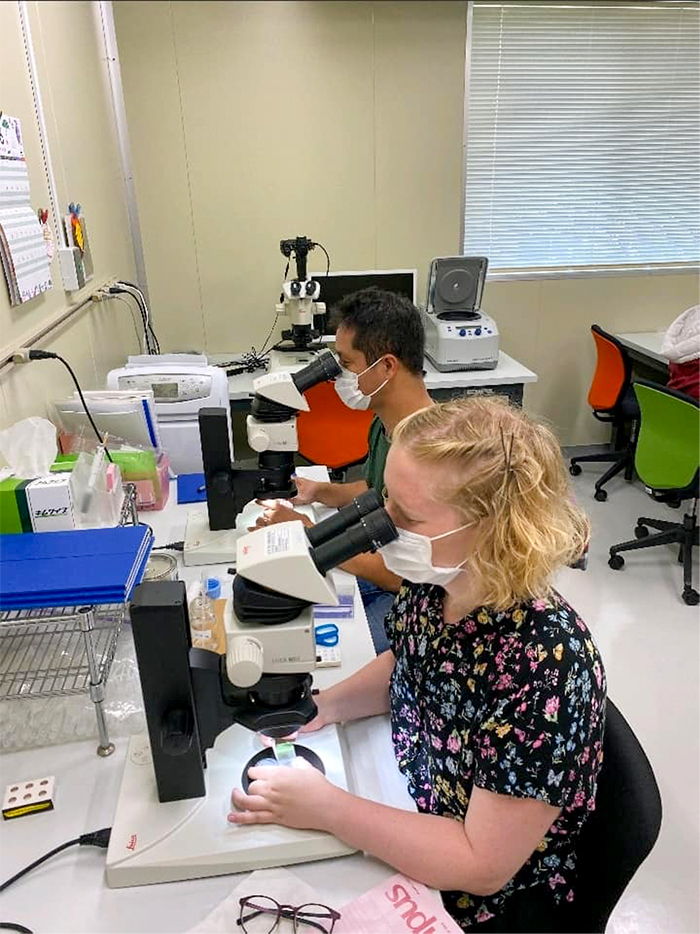 My 6 weeks at NIG were unbelievably wonderful. I had been to Japan 3 times before and speak a fair bit of Japanese, but this was my first time in a Japanese research environment, and it absolutely did not disappoint. Saito-sensei and everybody in the Invertebrate Genetics Laboratory made me feel so welcome from the very first day.
In the lab, I worked on m6A, a post-transcriptional modification of mRNA, and how the knock-out of a relevant methylation protein led to infertility in fruit flies. I had never worked with fruit flies before, but I thoroughly enjoyed the hands-on fly work and the resulting lab work, working with the ovarian tissue and RNA I had extracted and dissected myself. For my project, I also ended up doing some bioinformatics work, something I did not have a lot of experience in, but something that I actually ended up finding really interesting. Saito-sensei and the rest of my lab were always there to help when I had questions or got stuck in an experiment. NIGINTERN reconfirmed my beliefs that a research career is the right career path for me moving forward.
Not only did I get a lot out of NIGINTERN academically, but also socially. It was great fun living with the other interns in the Guesthouse and I enjoyed spending time with them in and around Mishima. A definite highlight of the trip was climbing Mount Fuji together, truly a once-in-a-lifetime experience.
Japan is such an amazing country with amazing food, people and scenery and Mishima is no exception. Getting to combine my passion for molecular biology, my ambition for research and my love for Japan and Japanese language was an exceptional experience that I am deeply thankful for. NIG is an amazing institution with great staff, that were beyond helpful to all of us. I hope to come back sometime in the future. ありがとうございます!