Application for NIGINTERN2017 has been closed.

National Institute of Genetics (NIG)/ Department of Genetics, SOKENDAI offers a 6-week research internship program for undergraduate students who wish to gain research experience in genetics and related fields in life sciences. Intern students will conduct independent research under the mentorship of a host investigator at NIG.
Our program includes training on scientific research, scientific communication, and lab visits to discuss with individual principal investigators. At the end of the program, participants will give a presentation on their experience in the "NIGINTERN Reports Symposium". NIG will issue a certificate to those who have successfully completed the program. Interns can also participate in various activities such as graduate program, lectures, journal clubs, and seminars by outstanding researchers from inside and outside of NIG. Japanese lessons are also available.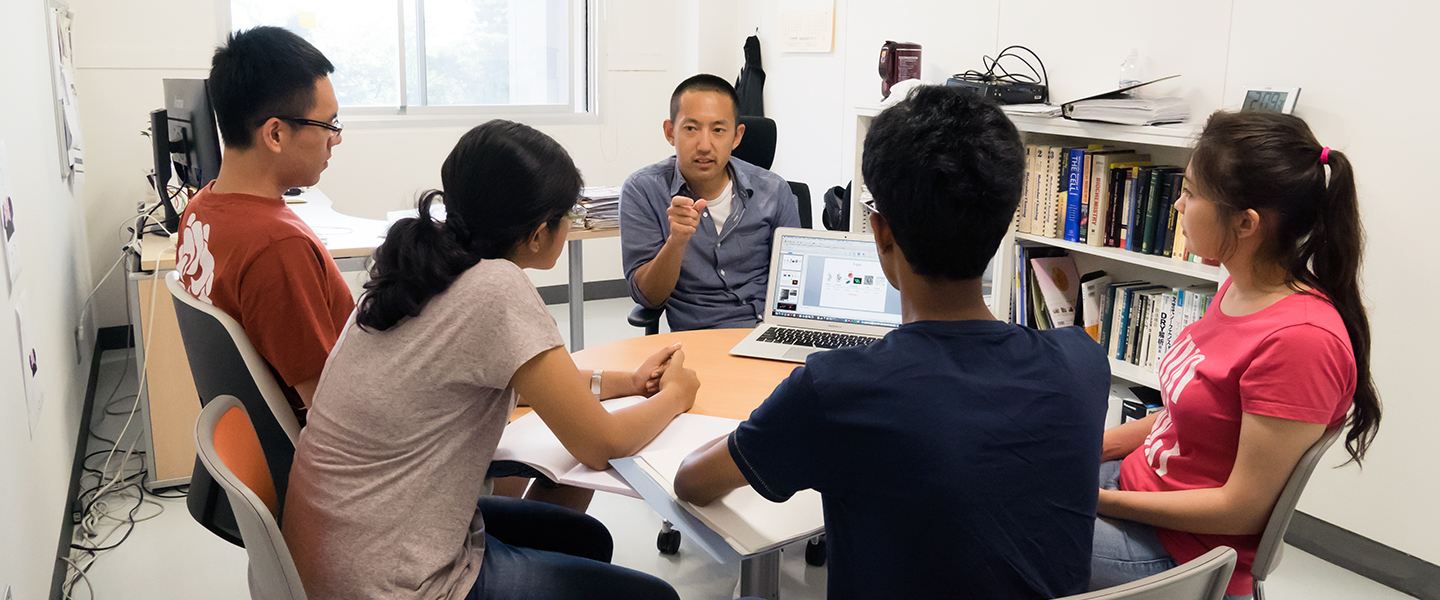 Applicants must be prefinal-year undergraduates at the time of application who are interested in life sciences, meaning that students in the 3rd year of a 4-year bachelor program, in the 4th year of a 5-year master/ bachelor dual-degree program or in the 1st year of a 2-year master program are eligible to apply for NIGINTERN 2017. Students who are interested in enrolling in our PhD program at NIG are encouraged to apply.
*Because of a highly competitive selection process, applications from non-prefinal students are not considered.

Students interested in applying for this program should read and understand the conditions and requirements of the program. Access from this link and prepare the following material as PDF files.
*Our online registration system requires the latest version of browsers.
Recommended browser: Google Chrome
Step1:
Online Registration 【February 1 to 28, 2017】
Access from this link. Please keep your registration number when you enter the application. The application page will close at noon on February 28, 2017 (JST).
*Applications without online registration are not valid.
Step2:
Curriculum vitae and two letters of recommendation (Since you will need a registration number, this step should be completed after submitting the application.) 【February 1 to 28, 2017】
Send curriculum vitae including education starting from high school and a scanned academic transcript. Be sure to indicate your current academic year on your CV. Please name the file "(Registration number)Family Name_Given Name".
Two letters of reference from your teachers including the applicant's registration number should be sent directly to nig-intern@nig.ac.jp by the referring teachers. Please rename this file "(Registration number)LOR_Applicant's Family Name_Applicant's Given Name" using the following format and email as an attachment (PDF file) to <nig-intern@nig.ac.jp>, with the subject "(Registration number) Recommendation for NIGINTERN2017 application".
Form (Word/648KB)
Step3:
Result Announcement 【March 31, 2017】
The registration numbers of selected students will be posted on our website by March 31st (Fri) 2017 noon (Japan standard time, JST). The selected students will also receive a notification from us.
Note: Due to the overwhelming number of internship applications, we cannot reply to individual queries regarding the selection status or results.

Registration Number of Successful Candidates


NIG will cover costs of airfare, local transportation fares between airport and NIG, lodging in the institute's guesthouse, and travel insurance during the program. Allowance for meals (ca. 1,500JPY/day, subject to change) will also be provided.

June 26 - August 4, 2017
* NIG covers expenses for the designated period only. Requests for shorter or longer periods will not be considered.
* For any internship opportunity other than this program, please contact your potential host PI(s). In such cases, costs and arrangements for travel, visas, accommodation and living expenses are the responsibility of the interns or their sponsoring institutions.

Q1:
I'm currently in the 3rd year of 5 year-dual degree program. Am I eligible?
A1:
No, we accept applications only from students in their prefinal year at the time of application.
Q2:
I'll be a prefinal-year student during the intern period but am currently in the 2nd year of 4-year Bachelor program. Am I eligible?
A2:
No, at the time of application you must be a prefinal-year student.
Q3:
Which countries / nationalities are eligible?
A3:
We welcome applications from any country / nationality.
Q4:
Am I eligible to apply even if my university is not in the country of my citizenship?
A4:
Yes, the only condition is that the applicants live outside Japan at the time of application.
For inquiries please send e-mail to nig-intern@nig.ac.jp
Before you send an inquiry, please check the above FAQ.
* Due to the New Year's holiday, our office will be closed from December 29, 2016 to January 3, 2017.

Click on the following link to view past pages, see photos, and read messages from NIGINTERN.
Message from NIGINTERN: