Molecular Function Laboratory • Kanemaki Group
Toward a new field of genetics of higher eukaryotic cells
Associate Professor  KANEMAKI, Masato
mkanemak

Homepage URL :
http://www.nig.ac.jp/labs/MolFunc/
The goal of our research is to create a new field of genetics of vertebrate cells by applying new technologies and, at the same time, to understand the role of proteins involve in events relating to DNA replication, repair and, recombination. We have developed a new method, the AID (auxin-inducible degron) system, by which the expression of a protein of interest can be controlled in an auxin-dependent manner. By combining AID with the conventional gene-targeting technology, it is now possible to make conditional yeast and chicken DT40 cells. Our current projects are as follows.

● Characterization of higher eukaryotic proteins involved in DNA replication, repair, and recombination.
● Improvement of the AID method and development of other degron technologies.
● Development of genome manupulation methods for the construction of mutant cells.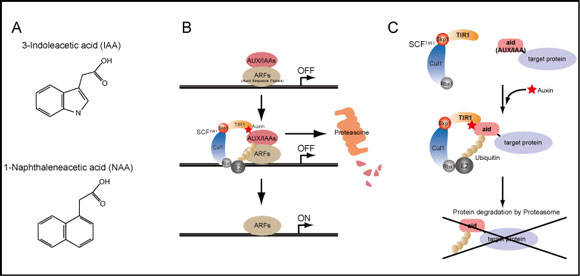 Schematic illustration of the AID system.
(A) Structure of a natural auxin, indole-3-acetic acid (IAA), and a synthetic auxin, 1-naphthaleneacetic acid (NAA). (B) The auxin degradation pathway in plants. AUX/IAA inhibitors bind to ARF transcriptional activators at the gene promoters controlled by auxin. In the presence of auxin, AUX/IAAs are degraded resulting activation of the genes. (C) Auxin binds to TIR1 which in turn promotes the interaction between TIR1 and the aid degron of the target protein. SCFTIR1 acts as an E3 ubiquitin ligase to recruit an E2 ligase resulting poly-ubuquitylation of the aid degron. Finally, the target is degraded by the proteasome.
Nishimura,K., Ishiai, M., Horikawa, K., Fukagawa, T., Takata, M., Takisawa, H., and Kanemaki MT.
Mcm8 and Mcm9 Form a Complex that Functions in Homologous Recombination Repair Induced by Interstrand Crosslinks
Molecular Cell, 47, 511-522, 2012

Watase, G., Takisawa, H., and Kanemaki, MT.
Mcm10 Plays a Role in Functioning of the Eukaryotic Replicative DNA Helicase, Cdc45-Mcm-GINS
Current Biology, 22, 343-349, 2012

Masumoto, H., Nakato, R., Kanemaki, M., Shirahige, K., and Hachinohe, M.
The Inheritance of Histone Modifications Depends upon the Location in the Chromosome in Saccharomyces cerevisiae
PLoS One, 6(12):e28980, 2011

Tanaka, T., Umemori, T., Endo, S., Muramatsu, S., Kanemaki, M., Kamimura, Y., Obuse, C., and Araki, H.
Sld7, an Sld3-associated protein required for efficient chromosomal DNA replication in budding yeast.
EMBO Journal, 30, 2019-30, 2011

Kanke, M., Nishimura, K., Kanemaki, M., Kakimoto, T., Takahashi, T.S., Nakagawa, T., and Masukata, H.
Auxin-inducible protein depletion system in fission yeast.
BMC Cell Biology, 12, 8, 2011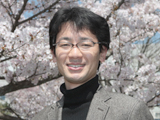 Associate Professor
KANEMAKI, Masato
mkanemak

---