Complex functions of related chromatin remodeling complexes during development of C. elegans
Developmental Biology
Multicellular Organization Laboratory
Multiple functions of PBRM-1/Polybromo- and LET-526/Osa-containing chromatin remodeling complexes in
C. elegans development
Yukimasa Shibata, Masahiro Uchida, Hisako Takeshita, Kiyoji Nishiwaki, Hitoshi Sawa
Developmental Biology
DOI: 10.1016/j.ydbio.2011.10.035

  In eukaryotes, expression of genes are affected by positions of histones. SWI/SNF complexes are one of the major classes of chromatin remodeling complexes that catalyze re-positioning of histones on DNA. There are two distinct SWI/SNF complexes (BAF and PBAF) that share core components but have distinct accessory components. These complexes are known to regulate transcription of distinct sets of genes through the functions of the accessory components.
  In C. elegans, we have identified genes encoding the accessory components (LET-526 and PBRM-1) of BAF and PBAF complexes, respectively, as mutants defective in asymmetric division of a certain cell (T cell). We found that these genes regulate the expression of the same gene (psa-3) after the asymmetric division. We also found that let-526 and pbrm-1 mutants share the same phenotype; loss of distal tip cells (DTCs) that are essential for the development of the gonad. However, these genes regulate distinct processes for the DTC production; production of DTC precursors (somatic gonadal precursors; SGPs) for let-526 and that of DTCs from SGPs for pbrm-1. Our results show intricate regulation by accessory components in the target selection of these chromatin remodeling complexes.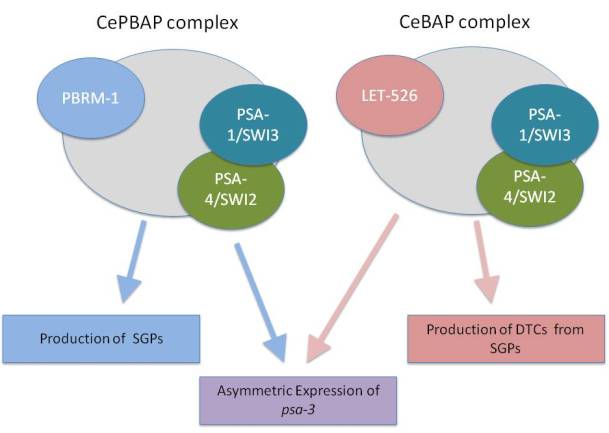 In C. elegans, CeBAF and CePBAF complexes have distinct accessory components, LET-526 and PBRM-1, respectively. Both regulate the expression of the psa-3 gene after an asymmetric division, but are involved in distinct steps for the production of DTCs.