Novel genetic mechanism regulating pollen killers
Genetics
Plant Genetics Laboratory
Hybrid male sterility in rice is due to epistatic interactions with a pollen killer locus.
Takahiko Kubo, Atsushi Yoshimura, Nori Kurata
Genetics 189(3): 1083-1092 (2011)
DOI: 10.1534/genetics.111.132035

  Hybrid sterility is known to be caused by epistatic interaction between genes from different species. Interestingly, however, single gene that causes hybrid sterility by allelic interaction (called gamete killer) has been most frequently reported in plants. The gamete killers are inherited by more than 50% of functional gametes by eliminating opposite alleles. Therefore, they are also known to be selfish genetic elements. Despite of a few studies reporting isolation of gamete killer genes, the molecular mechanism remains to be fully elucidated in plants. Here we found that epistasis is essential for activation of the gamete killer. Assuming that the gamete killer acts without epistasis, it would cause sterility both in reciprocal genetic backgrounds. However, we found that a rice pollen killer gene S24 identified in an intersubspecific cross of Oryza sativa ssp. indica x japonica did not show pollen sterility in the indica genetic background. Further analyses demonstrated that S24 was activated by a recessive gene efs hidden in japonica genetic background. Earlier studies have suggested that the gamete killer is affected by the genetic background, but no conclusive evidence has been provided. Our study revealed detail chromosomal position of the epistatic gene, and the complex genetic network regulating the pollen killing action.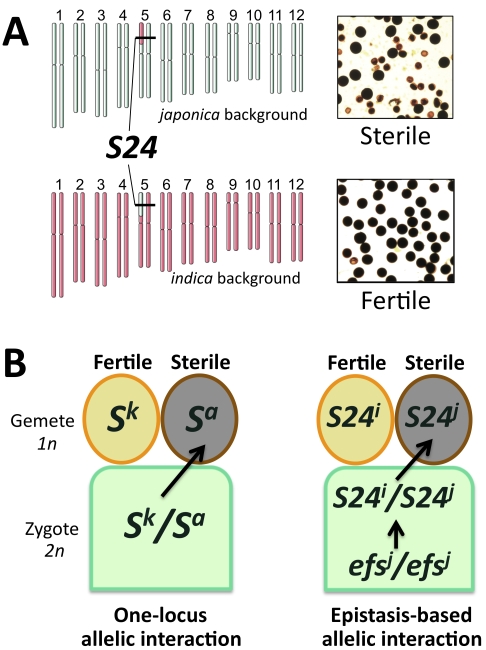 (A) Pollen killer S24 i (indica allele) induces abortion of S24 j (japonica allele) pollen in japonica background, but it has no effect on pollen fertility in indica genetic background. This result offers contradictory evidence against the hypothetical genetic model of one-locus allelic interaction for pollen killer. (B) Genetic model of one-locus allelic interaction previously proposed (left) and a new model explaining epistasis-based allelic interaction proposed in this study (right).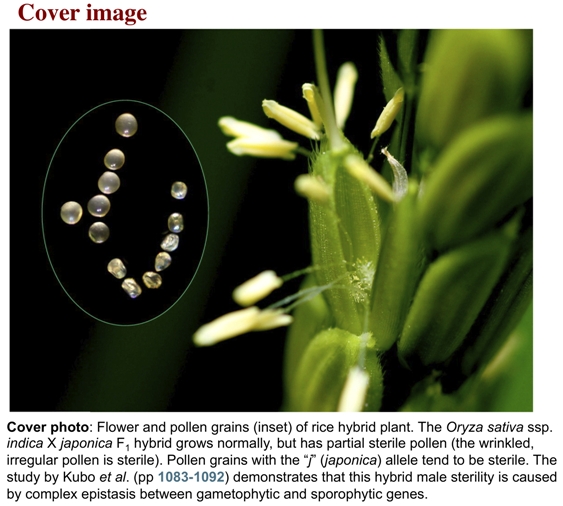 This research has been selected as the cover of Genetics November 2011.