Coordinated polarization of cells by Wnt proteins
PLoS Genetics
Multicellular Organization Laboratory
Multiple Wnts Redundantly Control Polarity Orientation in Caenorhabditis elegans Epithelial Stem Cells.
Yamamoto Y, Takeshita H, Sawa H (2011)
PLoS Genetics 7(10): e1002308.
DOI: 10.1371/journal.pgen.1002308

  In living organisms, it is frequently observed that a group of cells are polarized in the same orientation. Although it has been known that such coordinated polarization is controlled by the intracellular Wnt signaling pathway, roles of Wnt proteins in this process has not been understood well. We have shown, in the nematode C. elegans, that multiple Wnt proteins coordinate orientation of cell polarity.
  During development of C. elegans, most cells are polarized in the same anterior-posterior orientation and divide asymmetrically to produce daughter cells with distinct cell fates. Although the asymmetry of cell divisions is controlled by a Wnt signaling pathway, it is not known how the polarity orientation is coordinated. We analyzed roles of all the 5 Wnt genes in C. elegans in the polarization of 6 epithelial stem cells. Although mutants of each Wnt gene had weak polarity defects, polarity orientations in all the stem cells were randomized in quintuple Wnt mutants. In contrast, the cells were not polarized in triple mutants of Wnt receptors. These results show that Wnts function in the coordination of polarity orientation, while their receptors polarize cells irrespective of the presence of Wnts.
  One Wnt protein regulating the polarity is expressed anteriorly, while others are expressed posteriorly. To examine the model that polarity orientation is determined by the position of Wnt expression, we swapped the expression between anterior and posterior Wnts. Unexpectedly, ectopically expressed Wnts properly oriented cell polarity. We are investigating further mechanism of polarity regulation by Wnts, by hypothesizing that functions of Wnts depend on cell-specific chemical-modifications of the Wnt proteins.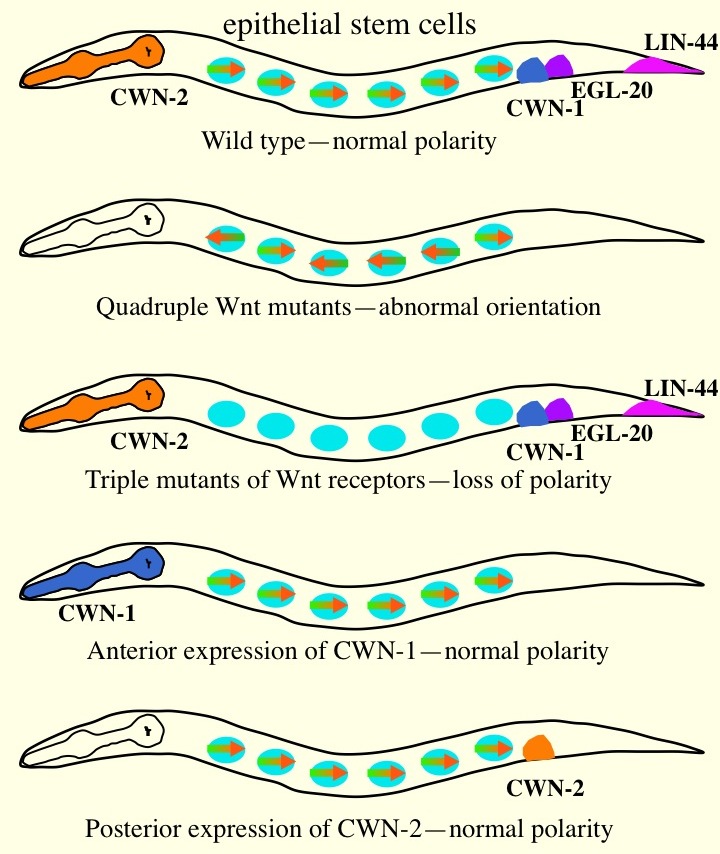 In wild type, Wnts are expressed anteriorly (CWN-2) or posteriorly (CWN-1 EGL-20 LIN-44) to the epithelial stem cells. In quadruple Wnt mutants as in quintuple ones, polarity orientations were randomized. In contrast, after knock down of three Wnt receptors, cells were not polarized. Anterior expression of CWN-1 and posterior expression of CWN-2 rescued polarity defects in compound Wnt mutants.