Molecular bases of pigmentation variation in Drosophila melanogaster: Divergent enhancer haplotype on inversion, In(3R)Payne
Molecular Ecology
Takano-Shimizu Lab, Division of Population Genetics
Divergent enhancer haplotype of ebony on inversion In(3R)Payne associated with pigmentation variation in a tropical population of Drosophila melanogaster.
Takahashi, A. and Takano-Shimizu, T.
Molecular Ecology 2011; Article first published online: 13 SEP 2011
DOI: 10.1111/j.1365-294X.2011.05260.x

One of our favorite model organisms, Drosophila melanogaster, is not only our intimate labmate but has its own natural populations around the world. With close observations of those individuals from natural populations, we can see variations in adult pigmentation intensity. The molecular basis of these variations has been attributed to the gene ebony, which is an enzyme in the melanin synthesis pathway. Dr. S. Carroll's group in University of Wisconsin has identified mutations that affect the expression level of this gene in the developing epidermis of the African flies (Rebeiz et al. 2009 Science). We identified a different divergent enhancer haplotype that increases the transcription level of ebony in the developing epidermis and produces lighter pigmentation in a population from southern Japan. These sites had no obvious association with the abdominal pigmentation intensity in the previously analyzed African populations from Uganda and Kenya, which suggested that multiple potential mutational pathways in the cis-regulatory control region of a single gene could lead to similar phenotypic variation within this species. We also found that this Light-type enhancer haplotype is strongly linked to a cosmopolitan inversion, In(3R)Payne. The inversion is predominant in warmer climatic regions in both hemispheres, where lighter pigmentation may be adaptive in terms of thermal regulation. These results have important implications to the studies of underlying molecular bases of ecological traits, and to deepen our understanding of the complex evolutionary patterns in the cis-regulatory control regions.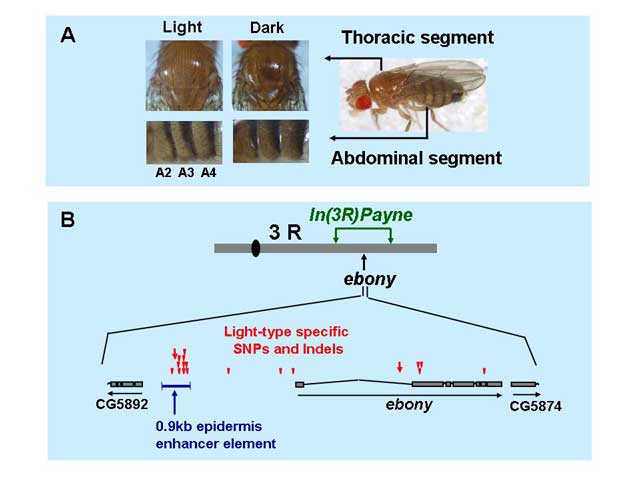 (A) Variation in pigmentation intensity in adult Drosophila melanogaster from Iriomote reared in 20ºC. (B) Positions of Light-type specific SNPs (red arrowheads) and Indels (red arrows) in the ebony gene region, which resides within an inversion, In(3R)Payne. Note that multiple mutations locate within the 0.9 kb epidermis enhancer element indicated by the blue bar.