How eukaryotic cells prevent breakaway in the initiation of DNA replication.
PLoS Genetics
Araki laboratory (Division of Microbial Genetics)
Multiple Regulatory Mechanisms to Inhibit Untimely Initiation of DNA Replication Are Important for Stable Genome Maintenance.
Seiji Tanaka and Hiroyuki Araki
PLoS Genetics, Vol 7 (6), e1002136 (pp 1-16). (2011),
DOI: 10.1371/journal.pgen.1002136

Chromosomal DNA replication occurs as a two-step reaction in eukaryotes. In the first reaction, called licensing, the replicative helicase is loaded onto replication origin in an inactive form during the G1 phase of the cell cycle. In the second reaction, called initiation, the replicative helicase is activated, and replication forks are established. Because of this two-step mechanism, licensing and initiation must occur at different times in the cell cycle. Failure of this two-step regulation will cause heterogeneous re-replication of chromosomal DNA, and genome integrity will be lost. Although previous works have established that multiple regulatory pathways regulate licensing, much less is known about how untimely (premature) initiation is prevented during the G1 phase. In this paper, we show that untimely activation of replication origins during the G1 phase is inhibited on multiple levels. Notably, deregulation of a single pathway can cause genomic instability; simultaneous deregulation of multiple pathways causes a more severe phenotype, such as aneuploidy. Therefore, these findings not only indicate the importance of having multiple inhibitory mechanisms to prevent untimely initiation of chromosome replication but also should help us understand how replication might be deregulated in human cancer cells, in which the genome is frequently destabilized.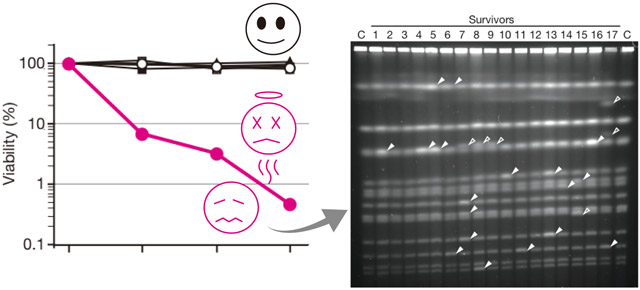 Untimely initiation of DNA replication is genotoxic.
Once untimely initiation of DNA replication is induced in G1, cells lose viability as shown in magenta in the left panel.
Some cells can survive, however, the banding pattern of their genome is very frequently abnormal (right).