Creation of artificial kinetochores
Cell
Fukagawa Lab (Division of Molecular Genetics)
Induced Ectopic Kinetochore Assembly Bypass the requirement for CENP-A Nucleosomes.
Karen E. Gascoigne, Kozo Takeuchi, Aussie Suzuki, Tetsuya Hori, Tatsuo
Fukagawa, and Iain M. Cheeseman
Cell Vol.145, 410-422. (2011) DOI: 10.1016/j.cell.2011.03.031

Accurate chromosome segregation requires assembly of the multi-protein kinetochore complex at centromeres. Although prior work identified the centromeric histone H3-variant CENP-A as the important upstream factor necessary for centromere specification, in vertebrate cells CENP-A is not sufficient for kinetochore assembly. In this paper, as a collaboration with Iain Cheeseman Lab of MIT, we demonstrated that two constitutive DNA-binding kinetochore components, CENP-C and CENP-T, function to direct kinetochore formation. We used genome engineering in DT40 cells, by which CENP-T was localized to non-centoromeric ectopic loci. We observed CENP-A-independent kinetochore assembly at the ectopic loci. We demonstrated that these ectopic kinetochore-like foci are functional based on the presence of microtubule attachments and the segregation behavior of foci-containing chromosomes in DT40 cells. Data with human cells were obtained from the Cheeseman Lab and Kozo Takeuchi, SOKENDAI student in the Fukagawa Lab largely contributed to creation and characterization of DT40 cells with ectopic kinetochores. The recent JCB paper from the Fukagawa Lab also suggests interaction of N-terminus of CENP-T with Ndc80 (http://www.nig.ac.jp/english/highlight/139.html). Please read both papers.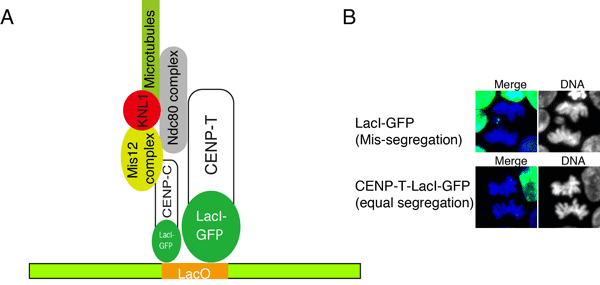 Formation of kinetochore-like structure (A) DT40 cells, in which LacO repeats are integrated into non-centromere region, were created. GFP-LacI fused CENP-T (or CENP-C) was expressed in the DT40 cells. If kinetochore-like structure was formed at the LacO site, other kinetochore proteins should be assembled at the site and the kinetochore-like structure would bind to microtubules. (B) Functional assay of cells with the kinetochore-like structure. When original centromere was removed and GFP-LacI was localized at the Lac-O site, chromosome mis-segregation occurred (top). In contrast, even when the original centromere was removed, ectopic localization of CENP-T-LacI-GPF at the LacO site rescued chromosome mis-segregation (below).