How is DNA condensed into chromosomes ?
Cold Spring Harbor Symposia on Quantitative Biology
Maeshima Laboratory, Biological Macromolecules Laboratory
New Insight into the Mitotic Chromosome Structure: Irregular Folding of Nucleosome Fibers Without 30-nm Chromatin Structure.
Kazuhiro Maeshima, Saera Hihara and Hideaki Takata
Cold Spring Harbor Symposia on Quantitative Biology , Mar 29, 2011. [Epub ahead of print]

A long strand of DNA is wrapped around a core histone and forms a nucleosome. The nucleosome has long been assumed to be folded into 30-nm chromatin fibers. However, our recent studies demonstrate that the nucleosome fibers in the bulk of mitotic chromosomes do not form 30-nm chromatin fibers but instead exist in a highly irregular state that is locally similar to a polymer melt (Figure A). We also postulate that a similar state exists in the majority of interphase nuclei (Figure B). The concept of the polymer melt implies dynamic polymer chains, which may have several advantages in chromosome condensation and segregation during mitosis and the gene transcription and DNA replication processes during interphase. We presented our recent finding and model at 75th Cold Spring Harbor Symposia on Quantitative Biology (Nuclear Organization & Function).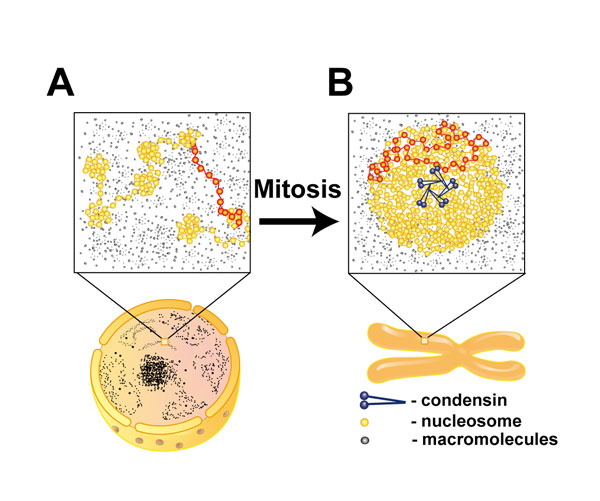 Model of chromatin structure and condensation process. In interphase nuclei, numerous chromatin domains, which are made of irregular folding of nucleosome fibers, already formed (A). When the cells enter mitosis, these chromatin domains are folded together, presumably by condensins and/or other protein factors to create a rod-like chromosomal shape (B).
Entrez PubMed PMID: 21447821