Mitochondrial lipid metabolism is essential for piRNA biogenesis and germ cell development
Developmental Cell
Sasaki Laboratory (Division of Human Genetics) (Present: Division of Epigenomics, Medical Institute of Bioregulation, Kyushu University)
Fujiyama Laboratory (Comparative Genomics Laboratory)
MITOPLD is a mitochondrial protein essential for nuage formation and piRNA biogenesis in the mouse germline.
Toshiaki Watanabe, Shinichiro Chuma, Yasuhiro Yamamoto, Satomi Kuramochi-Miyagawa, Yasushi Totoki, Atsushi Toyoda, Yuko Hoki, Asao Fujiyama, Tatsuhiro Shibata, Takashi Sado, Toshiaki Noce, Toru Nakano, Norio Nakatsuji, Haifan Lin and Hiroyuki Sasaki
Developmental Cell 20(3) , 364-375, 2011 DOI: 10.1016/j.devcel.2011.01.005

Mammalian germ cells have a unique cytoplasmic structure called nuage near the nucleus. Recent studies revealed that the nuage is essential for germ cell development and piRNA biogenesis. However, how the nuage is organized is poorly understood. Sasaki Laboratory knocked out mouse MITOPLD, a phospholipase localized on the mitochondrial membrane, and found that the lipid metabolism catalyzed by this enzyme is essential for the nuage formation in male germ cells. MITOPLD produces phosphatidic acid, a collection of signaling molecules, from cardiolipin, and this product somehow leads to the nuage formation. Interestingly, in MITOPLD-null male germ cells, mitochondria and the components of the nuage are mislocalized to regions around the centriole, suggesting that the lipid signaling regulates the microtubule-dependent transport of these proteins and the organelle. The Drosophila MITOPLD orthologue ZUCCHINI has been consider to be a nuclease, but this activity is not detected for MITOPLD. Together with the findings described above, the authors propose a new model for the formation of the nuage and biogenesis of piRNA. How the mitochondrial surface signaling regulates the two phenomenon, the localization of mitochondria and formation of the nuage, is yet to be clarified.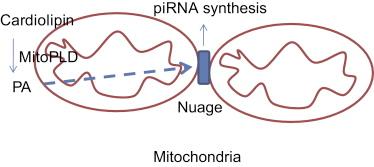 The model proposes that MITOPLD produces phosphatidic acid (PA), which serves as a signaling molecule to regulate the localization and transport of mitochondria and the components of the nuage. This is essential for the proper organization of the nuage, which is involved in piRNA biogenesis.