migS, a cis acting site for bipolar positioning of oriC on the Escherichia coli chromosome
EMBO Journal , 14 January 2004
Radioisotope Center. Niki Laboratory
migS, a cis-acting site that affects bipolar positioning of oriC on the Escherichia coli chromosome.
Yamaichi, Y. and Niki, H.
EMBO J., 23 (1), 221-233, 2004

  During replication of the Escherichia coli chromosome, the replicated Ori domains migrate towards opposite cell poles, suggesting a cis-acting site for bipolar migration is located in this region.

We identify a cis-acting DNA site in E. coli that affects the proper positioning of the oriC (or other nearby sequences) within the cell. This DNA site, which we refer to as migS, is 25 bp sequence and located ~200 kb apart from oriC. In addition, migS also contributes to nucleoid organization.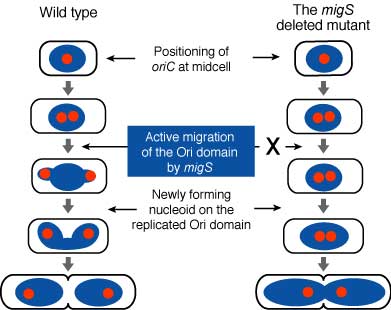 Model of the oriC bipolar migration/positioning and nucleoid formation.
The replicated oriC segments migrate towards the cell quarters, dependent on the function of migS located near oriC. The highly organized chromosome structure is presumably involved in tethering the Ori domain at or near cell quarters.
The shared masses represent the E. coli nucleoids; red circles indicate oriC.